From The President:
I was out there in my garden, moving the astilbe to cover the foundation of the garage, arranging the rocks so they'll
peak through the hosta leaves, deciding which heuchera works best. Then, it hit me that WNYHS is like a garden. All the members want to work together to make one attractive organization with its own personality. At the same time, the individuals which comprise the group have special needs which must be cultivated. Some folks show their pride in their garden by naming it. WNYHS has a logo naming us, which we'll wear with pride.
The WNYHS Member Survey showed that the most important reason that you joined the Society is to meet and talk to people about hosta. Additionally, you want to expand your gardening skills and your collection of hosta.
So, have we got activities for you! You already received the calendar, and you will receive postcard reminders of events where we can both gather AND learn about hosta. This newsletter has details of the continuing special programs we're embarking upon.
First, the Seed Exchange, chaired by Ran Lydell, will be launched this fall with an auction of seeds. Ran will talk about hybridizing goals and seed growing at the November 16, 1997, Anniversary Party, at 2PM at the Botanical Gardens.
Next, the Hosta Acquisition Program, chaired by Wes Hyde, will be taking applications. We will depend upon proceeds from our Public Sale on July 19, 1998, for funds.
The third special program is the Challenge Hosta Program which will allow each member to acquire, grow, exhibit H. 'Patriot' and compete for a prize at the Cut Leaf Show next June.
Fall is a time of reflecting on AND for renewing the garden. After a very busy Spring and Summer, let's pay lots of attention to the details and get those hosta sited just right so they'll show off at their best next spring! Please call or write any WNYHS Board member with your comments and suggestions, and especially to volunteer your time and growing expertise about hosta.
Carolyn Schaffner
WNYHS President

Welcome to the third edition of
HOSTA La Vista.
Published quarterly by the
Western New York Hosta Society
NEWSLETTER DEADLINE
FOR THE NEXT ISSUE: Nov. 15
Editor: Rachel Martin
Submissions and comments can be
e-mailed to me at:
hosta@gardener.com


Editors note:
The Hosta E-Mail Robin is a valuable tool for all gardeners. Plus, I use it as a resource for our newsletter!!

THE SLUG COLUMN
Mulch (and Slugs)
by Butch Ragland.
Our commercial business is mulch production for the retail and landscape industry so I use lots of mulch and it doesn't matter what you use for mulch. We've have not experienced any problem with slugs.
At the first sign of slug damage I put straight vinegar in a hose-end sprayer, full strength, and spray all around the hosta and do that each time I see any indication of slugs.
Slugs aren't attracted to mulch. They are attracted to a food source. If slugs come to the edge of a mulched bed and find nothing to eat, then on they go off merrily looking food. They will move until they find food, then look for a spot to get out of the sun under the food source.
When they find your hosta, KILL the little buggers soon with vinegar. Vinegar will not kill or hurt your plants in any way. Its not necessary to be careful how you mix the vinegar. Spray 2 times per week until you cannot find fresh slug damage.
I wouldn't use cedar mulch but have used about 4 inches of hardwood mulch on top of TC plants which causes them to come up late and miss late spring freezes.


Editors notes:
For me there is more to gardening than Hosta !!! I enjoy visiting gardens and looking for garden ornaments. I even thrive on making the organization work ~ from doing displays, to stuffing envelopes & sending info to people who say they want to know more about our group.
So I have added some of these elements into your newsletter!! This issue has two garden reviews, one of a local member and one from a well known hosta grower. If you go to a great garden and would like to write a review, please go for it! I think the small gardens need to be visited and written about too.
One of the programs in the works for WNYHS is a GARDEN TOUR. Members who want their garden to be involved should check this newsletter for instructions. More SEED EXCHANGE and ACQUISITION PROGRAM information is also here.
Plans are underway for many activities that will excite you. Please check both your newsletter and mailbox for details of the events from the WNYHS calendar as they come up so you will not miss anything.

Hope you'll join us on the van trip to meet with the Pittsburgh hosta lovers on November 1.
Rachel
P.S. See our new Logo, do you love it? We really are for real now. It was drawn especially for WESTERN NEW YORK HOSTA SOCIETY by Rich Haynes. Some may have seen his work elsewhere, since he designed the Buffalo Area Daylily Society logo too. We are planning T-Shirts, plaques and much more, stay tuned!!


Remember the quote from the Journal a few years hack?
The 1st year they sleep; the 2nd year they creep; the 3rd year they LEAP
Thanks for reminding us of this. Dale Frank in Minneapolis.

Attention !!!!

Members of the WNY Hosta Society

Here's the scoop: it's called The Challenge Hosta Project. This is a chance for you to participate in WNYHS's Cut Leaf Show on the first Sunday in July, 1998 and bring an exhibit or two. It's also an opportunity for EVERYONE, even those who feel they aren't yet ready, to compete in all the divisions. The show will have a special division for this Challenge Hosta and a special local award for it.
Members become a participant by buying and growing this hosta to perfection, with the target of showing it in WNYHS's cut leaf show AND by registering as a participant at a cost of $10.00 per person.

The proceeds will fund awards at the WNYHS Cut Leaf Show

This project should be a lot of fun, and put emphasis on techniques of growing to Cut Leaf Show quality. All questions about hosta cultivation, environmental matters and preparing a specimen for the show that arise will be answered at our meetings.
So ? Suggestions were made and a "Challenge Hosta" has been chosen. This hosta is a proven good grower in the Western New York area, with our winters and summers. It's a little bit of a challenge, but not too much, this being our first time around and all. It is a hosta that is affordable by all. And shows itself well....
The Challenge Hosta is….. ………..
THANKS SO MUCH!! The Challenge is on!!!

Carolyn Schaffner -- WNYHS President.


WNYHS Seed Exchange
Collect seeds from your hosta on a dry day when the seed pods are dry and cracked open just a bit. Cut the scape and put it top down into a paper bag, so that the seeds will fall to the bottom. Write on the bag, the parent, (or parents, if known) hosta's color, height and special features to help you form a good description later.
Clean the seeds as much as possible, by separating the debris from the seeds. Package the seed in well sealed paper or cellophane (not plastic) envelopes such as coin or stamp envelopes. Write the description on the outside.
Keep a list of the seeds you offer. Make a "wish list" of hosta you hope someone else will offer. Please bring your envelopes to the November 16 meeting, Anniversary Party, Seed Exchange and Auction. We will also have seeds from other hybridizers to auction. (Don't forget your checkbook!).

The Western New York Hosta Society
One year membership $10.00 single or family.
$5.00 / additional years.
Send check Payable to WNYHS to Rachel Martin
248 Bedford Ave, Buffalo, NY 14216.

The Marchard Horticultural Conference
The first Marchard Horticulture Conference was held June 21 and 22 at the Buffalo Museum of Science. The two day conference consisted of 10 lectures and several smaller workshops on topics from keeping a garden journal to seed germinaton to iandscaping for birds.
The highlignt of the first day was an entertaining lecture by Beatrice Elye on seed germination. For successful seed germination it is necessary to understand the pattern in which the seeds germinate in their natural environment and to try and duplicate those conditions. In some cases various types of pretreatment may be necessary. This can indude simply rinsing the seeds to remove inhibitors, abrading or pricking a seed with a thick seed coat (fine sand paper or a heavy duty needle work) or treatment with gibberellic acid. Patterns of temperature and light must also be considered. For serious seed starters, "Seed Germination Theory and Practice" by Norman Deno is an excellent source for the requirements of thousands of varieties ot seeds.
Other lectures discussed various plants recommended for different purposes. Gardens designed to attract birds must develop many layers, since birds often eat, nest and sing at differing heights. Also necessary are trees and shrubs that provide food during the different migration times, spring and fall. Trees such as Flowering Dogwood, Hawthorn, Mountain Ash or Crabapple as well as various types of Viburnum provide fruit for the migration journey. Developing edge plantings that provide shelter also help to attract vanous birds.
Stretching the garden season is possible by using a selection of early and late season bloomers. Among the earliest are various trees and shrubs. Witchhazel, dwarf Viburnum and hardy Magnolias such as Magnolia salicifolia will help to hurry spring along. Bulbs such as Crocus, Iris reticulata and danfordii, Scilla siberica (blue squill), Chionoxia ans Puschkinia scilloides(striped squill) and woodland plants Trillium and Erythronium are wonderful easy flowers. To extend the season, planting various Heucheras with their different foliage patterns adds interest. Other possibilities indude Lycoris squamigera (hardy Amaryllis), Rudbeckias, Sedum, Artemisia. Ornamental grasses and cabbages to add varieties of color and texture to the garden. Shrubs and trees to be considered indude Mountain Ash, Viburnum, Callicarpa and various llex.
For anyone interested I'd be happy to provide a more complete listing of recommended plants as well as trees and shrubs that maintain a muti-season appeal.

Joanne Pyszczek attended the conference on behalf of WNYHS with a scholarship from the Museum.


HOSTA SITTER ACQUISITION PROGRAM.
Please join us in this new exciting program To apply, send a note to Wes Hyde, describing your garden and your garden techniques, the number and the names of some of the hosta you currently grow. Also enclose a picture or two to illustrate and to show as much of your garden as you can.
We'll ask you to sign an agreement that says that you'll take good care of the hosta, return all the fans for distribution to WNYHS, and keep us informed of the behavior of the plant. In appreciation for your time and effort, when you return the plant, you will be offered a fan to keep.


GARDEN REVIEWS.
I visited Shirley Magee's garden with my two boys,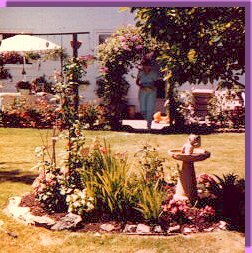 and found it was a quiet haven, about 15 minutes from my home in North Buffalo. We parked in the driveway and walked to the rear of the house. On the way we stopped to see the enormous tomato plants. So large, said Shirley, from the chicken manure she bought at the Botanical Garden's Rare and Unusual plant sale.
Then we passed under a trellis covered with a dark blue clematis. WOW! Every thing was covered with plant life of every kind, all in full bloom and full of color. Every inch of space is used. Containers are placed around with plants that need to be brought in over the winter, or to be given to friends.
Shirley and her husband enjoy morning coffee and cocktails by night next to their fish pond, which is lit with white Christmas lights to attract the fire flies. They put on quite a show.
The Hosta 'Elegans' and some Elephant Ears are a wonderful hack drop to smaller area of specialty shade plants and young hosta. Another spectacular focal area of the garden is a sunny raised bed of hybrid roses.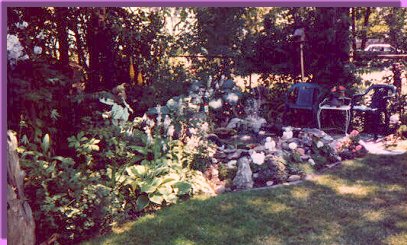 The highlight of the visit for my older son was finding a large caterpillar which Shirley kindly put into an old glass fish tank. What a prize for my budding nature buff!!
Shirley is a new WNY Hosta member and a very active gardener.
Rachel Martin

---
Pittsburgh's Barbara Dittmer's tumbling hosta waterfall garden is a traffic-stopper!! Kevin Walek's hosta waterfall,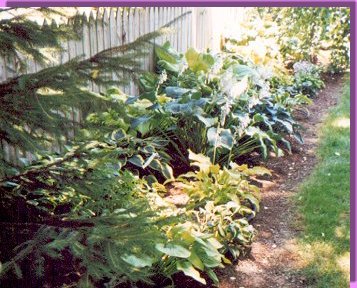 which he says was created quite accidentally is similar. We saw slides of his wonderful creation during his visit last fall.
As you go down the side of the Dittmer's house, under a huge tree, maybe an oak, on the slope leading to the street are the hosta which Barbara is using to create a waterfall. As I was coming down the slope, looking at each hosta plant individually, I didn't get the message, but looking back, I was struck!
At the top is a huge blue, then, a third of the way down is a smaller one, and further down at the foot, even smaller blues, and in between, many less blue, some margined and various sized, various shaped, so that, if you put a length of soft fabric over it, you'd have the bumpy surface of a waterfall.
The white margins of some of the plants remind us of the surface of rough waters, and the blues remind us of the water flowing over big rocks in the waterfall. Down by your feet, near the street, and in the "front" of the waterfall are many small white-margined plants as would be at the rocky bottom of the falls.
Every hosta is different. She has used puckered ones, big ones and small ones!! Here is Barbara's list for her "Hosta Waterfall" :
Feather Boa, Blue Moon, Patrician, Hadspen Hawk, Golden Heart, So Sweet, Gold Standard, Love Pat, Sun Power, Sagae, sieboldiana Elegans and Green Sheen. Reflected on the other side bordering the driveway bed by: Haku Chu Han, Blue Blush, Silver Hearts, Raspberry Sorbet, Calypso, Mary Marie Ann, American Dream, Lunar Orbit and Mama Mia.
Carolyn Schaffner with consultation with Barbara Dittmer


Collect photos of
YOUR GARDEN
to apply to be on the
WNYHS's
Garden Tour

Please Welcome these
new members to
WNYHS!
Albanese, Umberto
Allan, Raffeala
Barcy, John
Belling, Alice & Louis
Bliss, Roslyn
Cejka, Mike
Cianchetti, Judy
Curtain, John
Dompkowski, Dr. Judith
Figilski, Rita H.
Galarneau, Anthony
Haremski, Marie
Heintz , Ruth E.
Hunt, Christine
Hutchings, Robert
Jennings, Dave

Lorich, Mary Anne
Lutz, Jean
Malachowski, Don & Kathy
Marshall-Parker, Loretta
Menne Nursery Corp.
Michalowski, Daniel
Nau, Sherry
Shanahan, Joe
Simmons, Royce
Stephan, Mary Lou
Tlustos, Lance Jon
Tucholski, Judy
Wagner, David & Rita
Walker, Mary
Weissman, Berry
Williams, Noreen
Zimmermann, Dr. Edward

NOTE: The date on your address label tells you when your membership expires.

The membership chair is now Rachel Martin. If you are interested in renewing or in sending a membership application to a friend please let me know.


ASK AN EXPERT.
Q? I have read that grass is so bad for mulch because it can attract slugs. My neighborhood has never had much of a slug problem and I have never had any at all. I want to mulch several hundred tissue cultured hosta plants I recently planted. Is using a thin layer of fresh cut, weed and herbicide free grass so terrible? What is the potential downside? What is the best mulch to use for small tissue cultured hosta?
Thanks,
Thomas S. Carson
St. Paul, Minnesota
A. Dear Thomas:
Your question is a good one. But you must not use any unrotted humus product directly on your garden. This could be a disaster for small Hosta plants. Soil bacteria immediately attack any "fresh" organic material placed in ground contact, and, in the process of "breaking it down", draw "free "nitrogen. The plants in the areas are likely to become nitrogen starved, and a lot of bad things can result from that. It is best to have a little compost pile, or better yet several, you are working on in various stages of decomposition, and you will always have some ready to use.
Ransom Lydell
Eagle Bay Hosta Gardens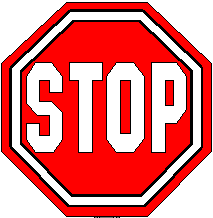 The VAN will take you to the Joint Pittsburgh & WNYHS Meeting in Meadville, PA. November 1, 1997. Door prizes await-don't miss out!! *9:30 AM Van leaves Buffalo *12 noon - 1 PM We'll hear @p53@Bill Zumbar talk on Mini Hosta *1 - 2:30 PM Buffet luncheon. Return the coupon and call 837-2285 to reserve your van seat.


Tips on Planting Hosta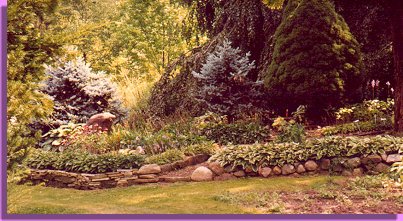 Highly variegated Hostas that are placed in conditions of too much sun, or in some cases of too much shade, will frequently start to "compensate" by making all green "sections". As with all plants, the green parts, because they are better chlorophyll producers, become dominant, and the variegated parts will disappear. I have seen this year several 'Paul's Glory' that have become all green. 'Paul's Glory' (in the north) is quite sun tolerant, but like most highly variegated Hostas that will grow in the sun, needs a lot cf moisture!

Ransom Lydell
Eagle Bay Hosta Gardens


American
Hosta Society
Robyn Dunback
AHS Membership
7802 NE 63 RD St.
Vancouver, WA 98663
(360) 256-7399
Annual dues: $19.00
The E-mail Robin:
contact:giboshman@aol.com

WHAT TO LOOK FOR
Here is something that collectors and hybridizers are looking for: Red petrioles (the stem part of the leaf). Often, the flower scape is colorful, too. This list includes some favorite hosta that show a range of color, from light red to dark purple.

Cinnamon Sticks
Chopsticks
Old Faithful
Purple Passion
Red October
Regal Rhubarb
Garnet Prince
Ewa Yata Moto

rupifraga
longipes Golden Dwarf
longipes var. latifolia
Leather Strap
Peedee Gold Flash
Yellow Waves
Hirao Majesty

Cherry Berry
Maraschino Cherry
Phantom
Black Foot
Red Wings
Red Sox
Tentacles
Torch Light
(Can you name some more?)


Editor: Rachel Martin
hosta@gardener.com
WNYHS officers
President : Carolyn Schaffner
Vice President: Peter Adragna
Secretary: Joanne Pyszczek
Treasurer: Dolores Galbo
Board of Directors:
Kathy Guest
Wesley Hyde
Ransom Lydell
Rachel Martin



ewsletter

vents

inks